When you call AnyTime Bins you're setting in motion a complex series of Recycling programs and is one of the best ways to be environmentally conscientious and responsible. Calgary, Okotoks, Airdrie and Cochrane and surrounding areas in Alberta are quickly becoming leaders in recycling paper, plastic, metal, wood, construction materials, and organics such as leaves, prunings and food items; so much so that the City of Calgary has managed to collect more than 80 percent of the total waste consumption in the city for recycling purposes. Anytime Bins is proud to be part of a great modern system that considers "disposal" a dirty word and most people are also proud to know that what they throw out will be reused by others and not become just buried and forgotten in a landfill.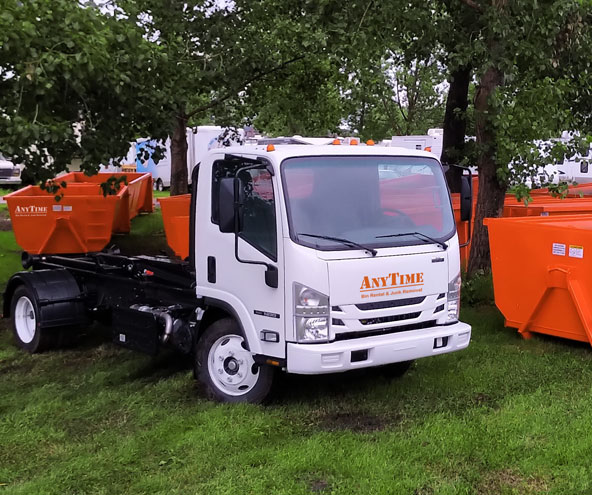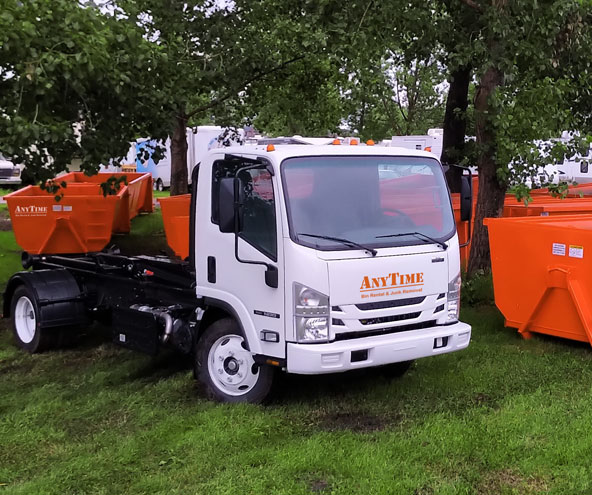 AnyTime can be thought of as a conveyor belt for used, broken, unusable, out of date, unwanted, materials, junk, trash, garbage, waste and items that once were new, necessary and even desirable. The material elements in these, now unwanted, things don't just get buried and forgotten. They get new life and enter the system of manufacturing new goods that once again become new and desirable items. 
AnyTime Bins collects waste and recyclable material from Calgary, Okotoks, Airdrie, Cochrane, Dewinton, Rockyview, Bearspaw, Springbank and general surrounding area. As Albertans are constantly renovating their homes, building garages, sheds, decks, fences, shingling roofs and siding, cleaning out their collected items from basements, garages, backyards, sheds, they generate tons of recyclable material that might be ten to forty years or older, this waste becomes part of the new products that we end up buying all over again. 
AnyTime Bins is a Calgary bin rental service and waste removal system to ensure your junk and trash is treated with the respect it deserves as a future raw material for tomorrow's products. Garbage removal is an environmentally sound way to reintroduce old stuff into new things people will buy and most new products have a legacy going back into your basement or garage or junk and trash pile stored in boxes and bags. Think of it as new life for your junk. Reincarnation even.
AnyTime Bins recognizes that junk piles up. Trash gets thrown in corners in boxes and bags and shelves taking up useful space. Our AnyTime Crew Service will make your cleanup task manageable and easy. Free up basement and garage space by calling AnyTime Bins and Crew Service to rejuvenate your home or commercial property.
Our Crew Service brings manpower to your home or construction site with an AnyTime Bin parked nearby and will efficiently remove any and all items as directed by you. You can direct them to remove specific items or tell them that everything must go top to bottom inside and out. 
AnyTime will remove fridges, stoves, microwaves, dishwashers, washers, dryers, couches and chesterfields, tables and chairs, carpet and broadloom, lights, old pictures, carboard boxes and plastic bags, drywall, wood and metal framing studs, shingles, aluminum and vinyl siding, broken-up concrete and asphalt, rocks, gravel, soil, plants, pruning, branches, tree trunks, plywood, OSB, mdf, windows, glass, mirrors, old toys, bicycles, motorcycles, car parts, and whole cars in some cases, skiing equipment, clothing, shoes, boots, paint, empty propane bottles, Styrofoam, plastic sheeting, paper products, tools, dismantled sheds and garages, tile, copper, aluminum, steel, iron and other metal products. And much more.
AnyTime Bin Rental Services provides standard 4ft high Easy-Lift-Over 17 cubic yard bins and new Isuzu trucks with specialized hook equipment and an automatic tarp system to cover your load of trash, junk and garbage waste from blowing off during transit to the landfill and recycling site. 
We offer 6 day a week service 8:00am to 5:00pm. Simply fill out the Contact form or call us direct at 403-875-3300 – someone will always be there to take your call professionally with all details. A credit card deposit will be taken and we offer same-day service for calls before 10:00am or next day service after 10:00am. 
Contractors doing renovation work on residential or commercial construction sites – call us for AnyTime Bin drops as needed – we will make sure you're never out of bins for your project. 
Home Builders and general contractors need cleanup services – AnyTime Junk Removal Professional Crew Services will look after cleaning up your site and if needed we can provide ongoing services as your project moves along. We'll keep you stocked with bins and Crew Services as needed. 
Ongoing projects need bins longer term – AnyTime will make sure you're never out of a bin and will make sure a new bin replaces a full one if needed. 
AnyTime is fully insured and licenced and offers professional courteous service for Calgary and surrounding area. To order a bin or junk and trash removal by our professional crews just call us direct at 403-875-3300 or fill out our website contact form – we'll get right it to provide you with great service.